5 Reasons For Solana Success – Solana has been making headlines all over the place these days, and the project's success keeps growing.
Just the other day, we were addressing the fact that in the past, the huge demand for Ethereum block space has led to network congestion, and this obviously resulted in very high transaction fees.
This congestion has created various opportunities for Layer 2 solutions, sidechains, and new Layer 1 networks – these are aiming to build scalable dApps beyond Ethereum. Solana is one of these Layer 1 networks, and the project's success seems to be booming.
We recently addressed the top 5 Solana ecosystem coins, and we suggest that you take a look at the previous article.
NASDAQ revealed recently five reasons for which SOL keeps growing, and the project is seeing such massive success.
5 Reasons For Solana Success
Solana's move into NFTs
The article notes that Degenerate Apes was Solana's first big foray into NFTs. This collection of costumed apes features various traits with various degrees of rarity. The collection sold out in less than 10 minutes.
Solana attracts a wide range of projects
There are more than 400 projects built on Solana's network and these include DeFi apps.
FTX and Alameda Research built their decentralized cryptocurrency exchange called Serum on the network, which also hosts the increasingly popular USDC stablecoin. (USDC is also available on Ethereum.) Another of this month's crypto stars, Audius (AUDIO), uses the platform too, which may also be a factor behind Solana's price rise. Plus, TikTok chose Audius as its streaming partner earlier this month.
Investors are looking for ETH alternatives
People are currently looking for alternatives to Ethereum, considering the fact that the network is struggling with high fees and congestion.
If Solana continues to perform great, there's a massive chance that it could become a better choice.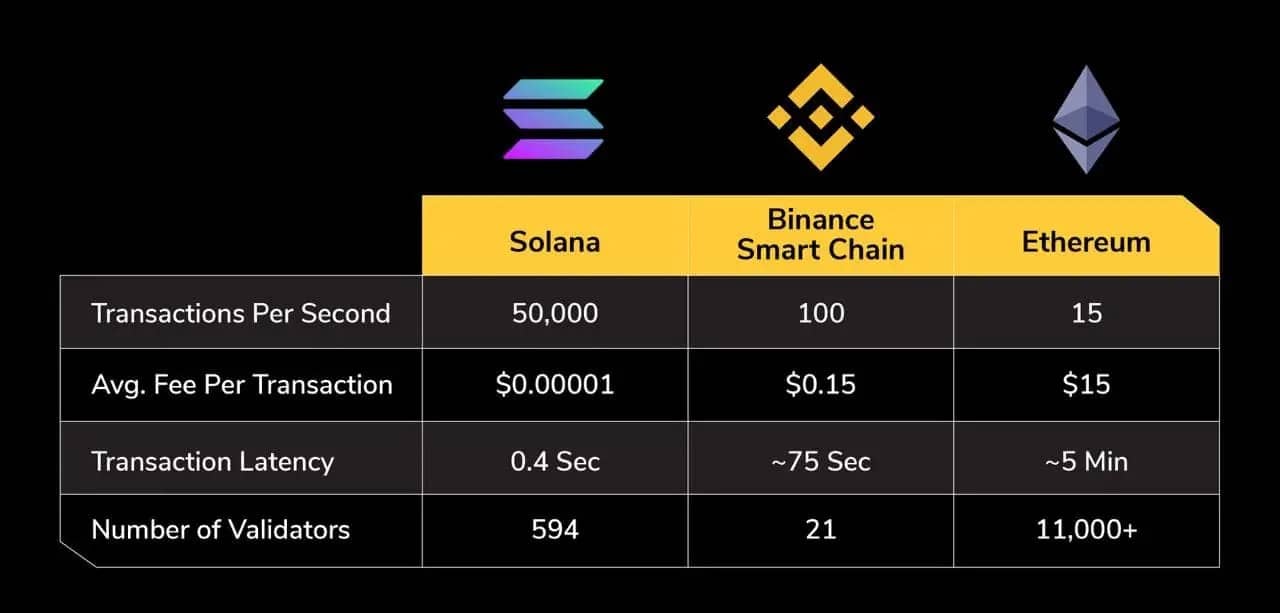 The launch of a wormhole project
For Solana, the wormhole offers a way to bridge different networks.
"According to Coindesk, projects can now use the wormhole to move assets between Ethereum and Solana quickly and cheaply. Solana says the next step will be to connect Terra (LUNA) and the Binance Smart Chain," NASDAQ writes.
Solana is fast
SOL is one of the fastest cryptos in the block. The project claims it can process more than 50k transactions per second that cost less than $0.01 per transaction.
This is competitive with Visa's payment processing capabilities. Solana says it will be able to get faster as hardware improves – it could reach 700,000 TPS. Ethereum processes 15 to 45 TPS.
Speed is not everything, but it has been an obstacle for many evolving cryptocurrencies. Time will tell whether Solana's correct in saying it hasn't compromised on security or other factors to reach that speed. Assuming it is, Solana may be able to keep its position in the top 10 cryptos for some time to come.
ALSO READ: What is EverRise (RISE) and How to Buy EverRise Coin
According to a new explainer of Solana in the outlet Decrypt, Solana has innovated other ways, too, including by forwarding transactions to validators even before the previous batch of transactions is finalized, which reportedly helps to "maximize confirmation speed and boost the number of transactions that can be handled both concurrently and in parallel."
"Basically, the speed of light is how fast we can make this network go," says Yakovenko.
Solana is definitely riding the wave of success, so stay tuned for more news. Hope you like our article on 5 Reasons for Solana Success, Do leave your comments and feedback below.
DISCLAIMER: The information provided on this website is for educational and entertainment purposes. The information provided on these websites does not constitute investment advice, financial advice, or trading advice. innoGriti does not recommend purchasing any cryptocurrency. Crypto markets are highly volatile and crypto investments are risky. Readers should do their own research on cryptocurrencies and consult their financial advisers before making any crypto investments.