With the cryptocurrency growth in 2021, many decentralized yield farms are operating and doing great. Although the crypto market seems to be inflationary at times. That's why a lot of people consider the crypto domain too insecure. This is where CaramelSwap steps in, willing to solve this issue.
What is CaramelSwap?
CaramelSwap is a new decentralized yield farm built with the aim of giving business enthusiasts a viable and low-cost blockchain bank service.
The project runs on Binance Smart Chain, with a deflationary token that provides greater interests – Caramel.
How is CaramelSwap solving crypto inflation?
The cause for the inflation-prone effect of so many cryptocurrencies is that software developers commonly choose to launch their tokens on an ICO first, selling them at a lower price before releasing them on exchanges.
This results in increased demand, and eventually, too many currencies will be released from the overall supply. Thus, the value of the token decreases.
However, Caramel Finance unveiled its token directly on the market, without any presale.  And this is just the first step.
To solve crypto-inflation once and for all, the platform uses two other features: the Mel requirement and the burning mechanism – to preserve the token's value over time:
The crypto deposits have a 5% fee, of which 80% is burned
The crypto transfers have a 2% fee, burned as a whole
RELATED: Cream Finance Announces Integration With Polygon for $8.64 billion
How is CaramelSwap different than other crypto projects?
The thing that makes it stand out is the Mel Requirement, which stops the mining pools' exploitation.
To join a mining pool on Caramelswap, you need to hold a certain number of MEL tokens – that can not be spent. If you don't meet the requirement, then you can't get the desired APR. That ensures the gradual market penetration of the new tokens.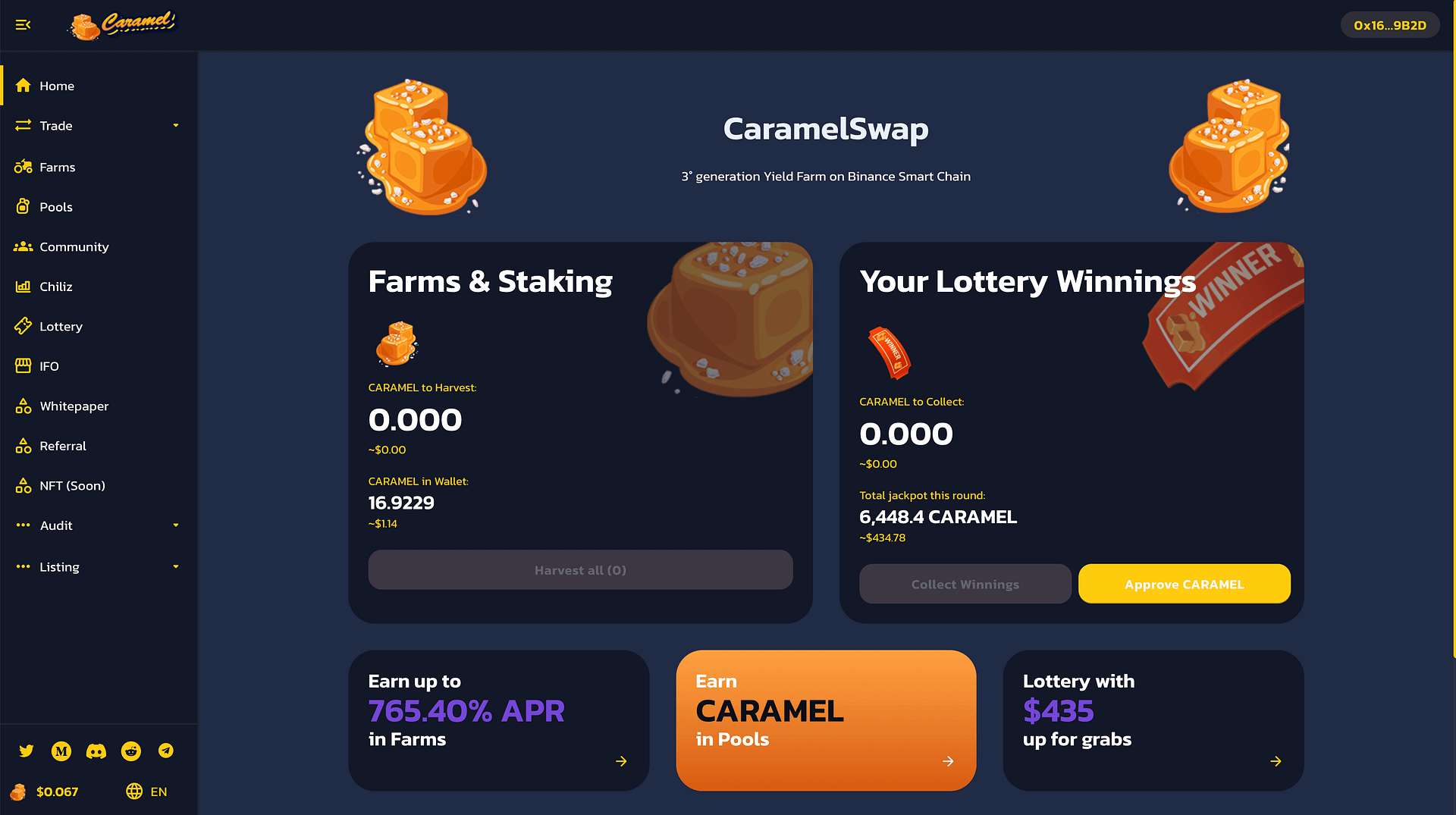 CaramelSwap's Roadmap
The team behind Caramelswap has great plans for the platform and already added some great features – with the launch of Harvest Lockup.
This feature locks the harvests for a certain amount of time, each time the user stake or harvests. The ranges may vary, from 2 hours to 4 hours or more. After the time is passed, all the tokens farmed can be sent to the user wallet. This increases the safety of the platform and also helps to control inflation.
The team is willing to introduce other awesome features, described on their roadmap which were recently shared with the community, such as :
If your friends join the platform through the invitation link you send them, you will get 1% of their individual rewards for the whole time they are active.
Caramel Swap will give users perks through cards. The bigger your collection is, the greater is the prize. Holding 50 cards, for example, can give you the option to mine in any pool without any fees.
This is built for football fans who want to link their crypto with the sports area. With this feature, you can farm MEL using the tokens of your favorite football teams, like Atletico de Madrid, or Juventus. A great way to support your idols and get profit at the same time.
And these are just a few. Soon they will implement a new website, a bridge from Binance to their network, and even their own exchange.
Why choose Caramel Finance
In addition to the above reasons, here are the notable points of Caramel Finance.
_Fair Launch: _There is no token pre-sale, no ICO.
80% of the initial supply is added to liquidity
Low deposit fee: 0% with Caramel, 4% with other Tokens, Lp
Transparency
New Features
New Lottery
Token: CARAMEL
Ticker: MEL
Contract Address: 0x7ce1e651374ec5324e6f37c4ff312D53428F0D50 Chain: Binance Smart Chain (BEP-20)
Emission rate: Starts with 7 MEL and goes down to 3 Mel per Block.
Initial Supply: 20.000.000 MEL ( 20 Million MEL )
Emission Distribution: Initial Farm/Pools get 7 MEL rewards per block, devs get 0.1 MEL rewards per block and will go down to 3 MEL per block for Farms/Pools. In addition, we may make adjustments to suit reality, to ensure a stable and increasing MEL price.
Distribution
Farmers — 95% of the rewards per block (6.65 MEL)
Devs & Incentives — ~5% of the rewards per block (0.35 MEL)
Initial LP — Initial liquidity will be added for MEL-BNB by the dev 1 day before the farming starts
Fees:
Caramel Finance collects a 4% deposit fee to periodically purchase MEL on the market and burn them. This will reduce the supply and pump your bags!
_DEV WALLET: _0xAB16684c039C121EEcaECfe51Fb827DBc92Fe9e6
The project is solid and they seem to be alert, doing a good job so that Caramelswap became a booster to the market value of MEL, generating profit in a stable and safe environment. Keep an eye on this new DEX!
DISCLAIMER: The information provided on this website is for educational and entertainment purposes. The information provided on these websites does not constitute investment advice, financial advice, or trading advice. innoGriti does not recommend purchasing any cryptocurrency. Crypto markets are highly volatile and crypto investments are risky. Readers should do their own research on cryptocurrencies and consult their financial advisers before making any crypto investments.