CarTrade Tech IPO subscribed 41 percent on Day 1
Warburg Pincus and Temasek-backed CarTrade Tech launched a Public issue on Monday which has subscribed 1.32 times so far, as it has garnered bids for 1.70 crore equity shares against an IPO size of 1.29 crore equity shares on August 11, the final day of bidding.
The reserved portion of qualified institutional buyers witnessed 97 percent subscription, and a part set aside for non-institutional investors was subscribed 51 percent.
Retail investors continued to provide good support to the offer as their portion was subscribed 1.86 times.
The company that operates brands such as CarWale, CarTrade, Shriram Automall, BikeWale, CarTradeExchange, Adroit Auto, and AutoBiz, aims to raise Rs 2,998.51 crore through an initial public offering. It is a complete offer for sale by marquee investors CMDB II, Highdell Investment, Macritchie Investments, and Springfield Venture International. Among others, Bina Vinod Sanghi (Jointly Held with Vinay Vinod Sanghi), Daniel Edward Neary, Shree Krishna Trust, Victor Anthony Perry III, and Vinay Vinod Sanghi (jointly held with Seena Vinay Sanghi) are also selling shares through IPO.
The issue constitutes 40.43% of the post-offer equity capital. Axis Capital Markets, Citigroup Global Markets, Kotak Mahindra Capital, and Nomura Advisory are book-running lead managers for the IPO.
RELATED : Zomato IPO to open on July 14, Plans to raise Rs 9,375 crore
Before the CarTrade Tech IPO, the company had raised funds via private placement in form of preference shares at Rs 825.13 apiece in October, and in form of equity shares at Rs 1,376.80 apiece in April.
CarTrade Tech is India's number one online auto portal for both cars and two-wheelers, based on relative online search popularity in FY21, and is a leading used vehicle auction platform based on a number of vehicles listed for auction for FY20. Among their key competitors, they were the only and most profitable automotive digital platform.
CarTrade Tech offers marketing, buying, selling, and financing of new and pre-owned cars, two-wheelers as well as pre-owned commercial vehicles, and farm and construction equipment. The company earns 57% of its revenue from commission and fees from auctions and remarketing services. Its other revenue sources include online advertising solutions, lead generation, inspection, and valuation services.
Further, "CarTrade actively invests in improving their technology such as their AI and machine learning capabilities in order to provide more relevant and timely information to their customers and enhance user experience. In addition to the above, they have provided a dealer management system (DMS) to BMW India to support all BMW dealers in India run their used car businesses in an efficient and digitally-optimized manner," said BP Equities which has given a 'subscribe' rating on this issue for the long term.
CarTrade Tech IPO Details
Issue Duration: Aug. 9-11.
Issue Size: Up to Rs 2,988 crore.
Face Value: Rs 10 per share.
Lot Size: 15 shares and multiples.
Listing: BSE and NSE.
Company's Financial Details
Particulars
For the year ended
31-Mar-2021    
31-Mar-2020
31-Mar-2019
Total Assets
19,301.99 million
14,704.06 million
14,270.94 million
Total Revenue
2,815.23 million
3,184.45 million
2,668.05 million
Profit After Tax  
1,010.74 million
312.94 million
259.17 million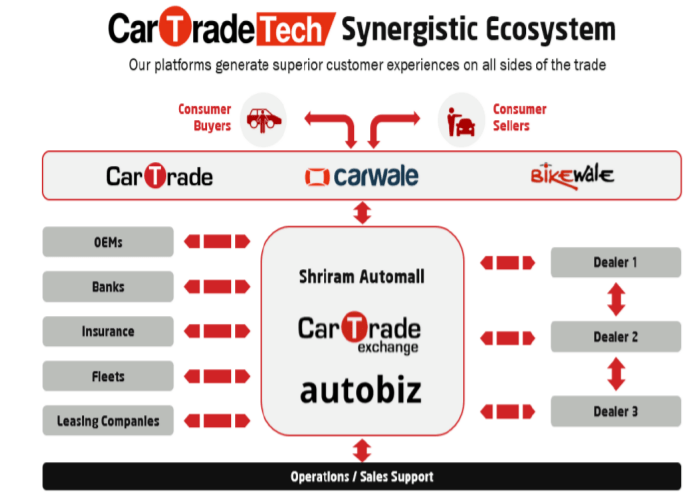 Peers
There are no listed companies in India that engage in a business similar to that of CarTrade Tech. Among unlisted competitors are brands such as Cars24 Services Pvt. Ltd., CarDekho and BikeDekho (Girnar Software Private Ltd.), Droom Technology Pvt. Ltd. and Mahindra First Choice Wheels Ltd.
Risks
The Covid-19 pandemic may affect its business, results of operations, cash flow, and financial condition in the future.
The company may be adversely impacted by a fall in individual car ownership or a sudden decline in demand for certain types of vehicles.
It may experience disruptions, failures, or breaches of its technology platforms.
An actual or a perceived failure to protect personal information and other data could damage its reputation and brands.
In the grey market, CarTrade Tech shares traded at a premium of Rs 150, which reduced significantly from Rs 320 on the previous day, the IPO Watch data showed.
CarTrade IPO Subscription FAQs:
When CarTrade Tech IPO Subscription will start?
The IPO subscription starts on 09 August 2021 for QIB, NII, and Retail Investors.
How much CarTrade IPO subscribed?
The IPO subscribed 0.99x times on day 2.
What is CarTrade IPO Retail subscription status?
The RII subscription is 1.53x on day 2.
How to subscribe CarTrade Tech IPO?
You can go with ASBA and Non ASBA option for a subscription. Go to your bank account and apply IPO online via ASBA or download form online or get the physical form and submit the filled form to your broker or bank.
How do i check live CarTrade Tech IPO Subscription Numbers?
One can visit our portal for live IPO subscription numbers that we are updating hourly basis from the official website NSE and BSE website. One can check the live subscription on BSE or NSE website on the particular IPO page.
Do leave us comments on what you think about CarTrade Tech IPO