Cryptocurrency exchange CoinDCX becomes India's first crypto unicorn, now valuing it at $1.1 billion.
Cryptocurrency exchange CoinDCX on August 10 said that it has raised $90 million led by Facebook co-founder Eduardo Saverin's fund B Capital, valuing it at $1.1 billion.
The funding has raised CoinDCX's valuation to USD 1.1 billion (Rs 8,150 crore), thus CoinDCX becomes India's First Crypto Unicorn raising $90 Million.
Speaking on the landmark occasion, Sumit Gupta, co-founder & CEO, CoinDCX stated, "The funds raised will be allocated to expand (bring more Indians to crypto/ make crypto a popular investment asset class in India) and strengthen our workforce that will cater to our growth story."
"We will hire talents across multiple functions and focus on new business initiatives. Apart from this, we will be joining hands or enter into partnerships with key fintech players to expand crypto investor base, set up a Research & Development (R&D) facility, strengthening the policy conversations through public discourse, working with the government to introduce favorable regulations, education, and ramping up the hiring initiatives," he added.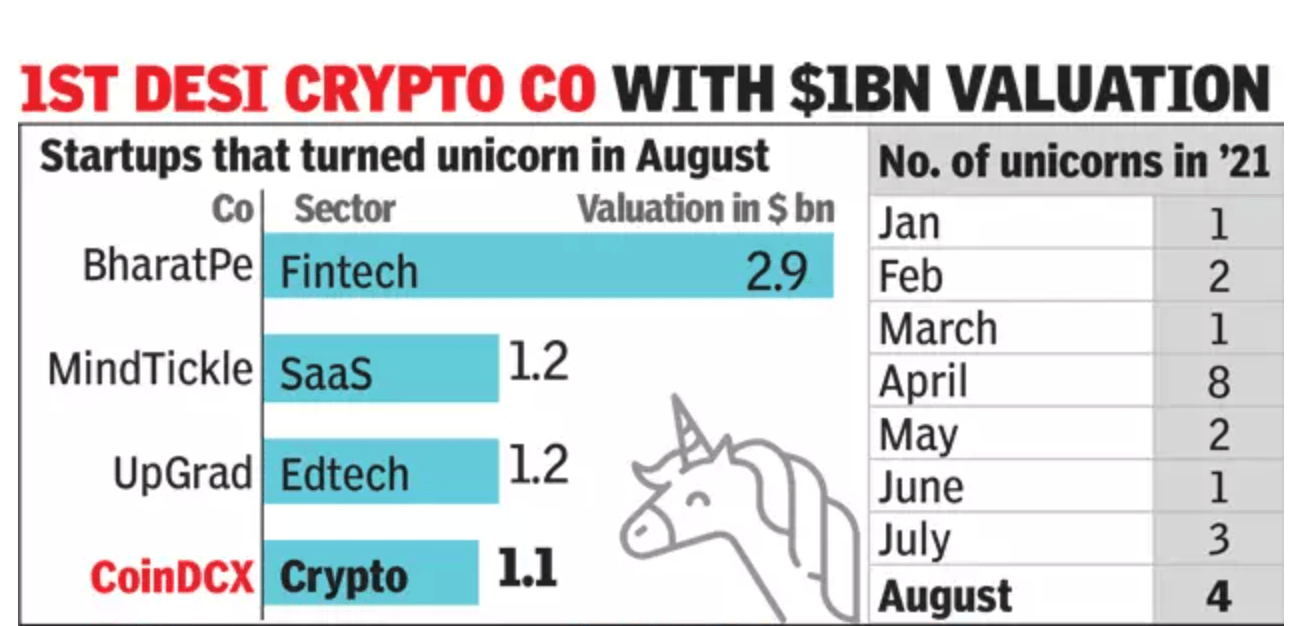 Founded in 2018, CoinDCX has already onboarded more than 3.5 million users. CoinDCX will also be launching the CoinDCX Prime initiative, its latest offering in the HNI & Enterprise space, providing legally vetted and safe investments, as well as Cosmex, CoinDCX's global trading product.
Besides its main exchange catering to retail investors, CoinDCX also provides trading and lending services for enterprise customers, traders, have a global trading platform and blockchain academy for education.
India is experiencing a dramatic growth in demand for cryptocurrencies and digital assets, yet only few platforms provide the efficiency, security and compliance that investors have come to expect the company said.
Crypto exchanges generally run profitable business models, making it attractive for investors, but CoinDCX did not disclose its revenue or profit numbers.
RELATED: WazirX Vs CoinDCX – Which is Better for You in 2021!
Both CoinDCX and Block.one, a crypto platform and investor in CoinDCX, are also angel investments of Sanjay Mehta, who now runs 100x VC, a micro venture fund spun off from his family office. He says he introduced the two companies to each other.
I have seen CoinDCX's growth right from being its seed investor, and helped raise their Series B with Block.one, also my portfolio company. It is great to see how network effects happen when an investor's large portfolio can engage with each other and make the portfolio better
Join COINDCX – Trusted by 4 Million+ Indians for cryptocurrency investments