So here's Our Weekly collection of Crypto Listing and Delisting. Hope you love this feature as we will try to update a new thread every week to keep you updated with the latest listing and delisting in the crypto exchanges.
All of them have been collected from various crypto exchanges and can change without any prior information.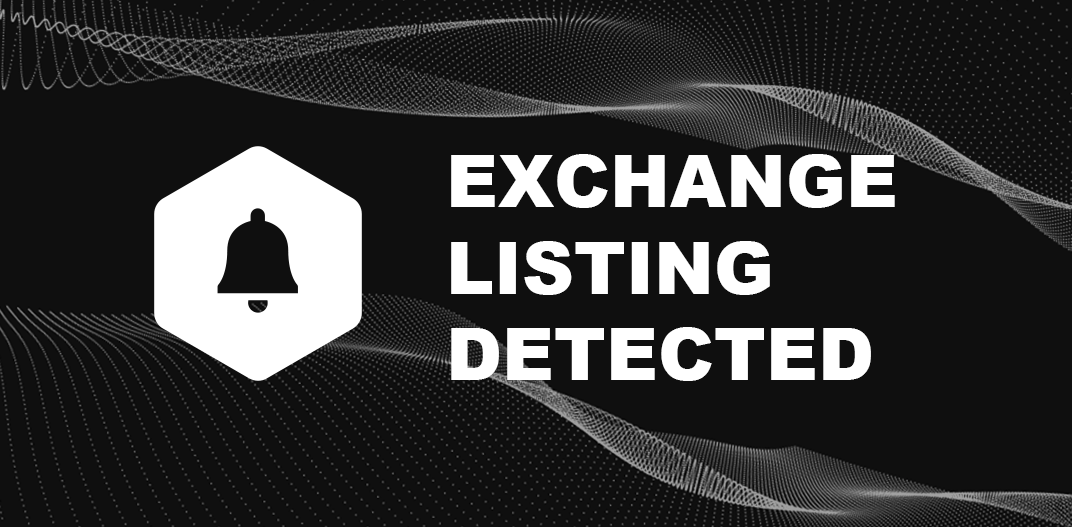 Crypto Listing and Delisting Announcements For this Week :
AscendEX
Listings:
Radix (eXRD)
HOPR (HOPR)
Bibox
Listings:
GERA Coin (GERA)
BigONE
Listings:
Invitoken (INVI)
Brazillian Stablecoin (BRZ)
Bilaxy
Listings:
Fund Of Yours (FOY)
Spacelens (SPACE)
PopRater (PPRT)
EmiSwap – EmiDao Token (ESW)
Ally Direct Token (DRCT)
StarLink (STARL)
HummingBird Finance (HMNG)
Baby Doge Coin (BABYDOGE)
Binance
Added Trading Pairs:
BUSD/UAH
RUNE/AUD
SOL/RUB
Bithumb
Listings:
Bancor (BNT)
CertiK (CTK)
Bitmart
Listings:
Livepeer (LPT)
DragonBite (BITE)
O3 Swap (O3)
Polkatrail (TRAIL)
AXIA COIN (AXC)
WaultSwap Polygon (WEXPOLY)
XinFin Network (XDC)
Yetucoin (YETU)
Raydium (RAY)
Bitrue
Listings:
MobiePay (MBX)
UBIX (UBX)
Alpaca Finance (ALPACA)
Added Trading Pairs:
IGNIS/USDT
BKEX
Listings:
Quant (QNT)
HTMoon (HTMOON)
LinkEye (LET)
catEx
Listings:
HERTZ-Network (HTZ)
Palgold (PALG)
Changelly
Listings:
FIO Protocol (FIO)
Coinbetter.ZT
Listings:
Flex Finance (FLEX)
KishuBaby (KISHUBABY)
Papa Doge (PAPADOGE)
WhaleFall (WHALEFALL)
Baby Kraken (KRAKBABY)
BabyDog (BABYDOG)
The People's Coin (PEEPS)
Shib (LEASH)
Floki Inu (FLOKI)
Plug (PLUG)
Swapz (SWAPZ)
Baby Shiba Inu (BABYSHIBAINU)
Olympus (OLYMPUS)
Lunarswap BSC (LUNAR)
Shibance (WOOF)
CoinEx
Listings:
Quant (QNT)
Ethernity Chain (ERN)
BarnBridge (BOND)
Helium (HNT)
Theta Network (THETA)
Coinsbit
Listings:
GoMining (GMT)
BEATiFY (SONG)
Shiba Play (SHIBPLAY)
Official Mars Token (OMT)
EagleCoin (ELC)
RedPanda Earth (REDPANDA)
Crex 24
Listings:
Global Smart Asset (GSA)
Masternode Hype Coin (MHCE)
Crypto.com
Listings:
Keep Network (KEEP)
Render Token (RNDR)
IQ (IQ)
DigiFinex
Listings:
TON Crystal (TON)
FINEXBOX
Listings:
LightCoin (LHC)
SpiderSwap (SPIDER)
FTX
Listings:
Synthetify (SNY)
Gate.io
Listings:
Verox (VRX)
Avalaunch (XAVA)
Fuse Network (FUSE)
HitBTC
Listings:
Vertcoin (VTC)
Hotbit
Listings:
Bitfolio (BTF)
Hamster (HAM)
The Real Gold Inu (TRGI)
Exva (EXVA)
Caracal Swap (CRS)
Bugg Finance (BUGGBSC)
draken.exchange (DRK)
Hachiko Inu (INU)
RichQuack (QUACK)
Baby Doge Coin (BABYDOGE)
IRON Titanium Token (TITANIUM)
Snoop Coin (SNOOP)
SuperBull Finance (SBULL)
Kraken
Listings:
Covalent (CQT)
Solana (SOL)
RELATED : How to earn cryptocurrency easily in 2021 ?
KuCoin
Listings:
Livepeer (LPT)
StormX (STMX)
BarnBridge (BOND)
Delistings:
Bridge Oracle (BRG)
LBank
Listings:
Woozooya Coin (WZC)
Baby Doge Coin (BABYDOGE)
Keep Network (KEEP)
Rabbit Finance (RABBIT)
xxxNifty (NSFW)
MEXC Global
Listings:
PlayDapp (PLA)
IRON Titanium Token (TITAN)
Hydra Chain (HYDRA)
Baby Doge Coin (BABYDOGE)
Linkflow Finance (LF)
Etna Network (ETNA)
OKCoin
Listings:
NEAR (NEAR)
Poloniex
Listings:
OKB (OKB)
THORChain (RUNE)
BEP20-BNB (BEP20-BNB)
TRC20-USDC (TRC20-USDC)
Probit
Listings:
QoinIQ (QIQ)
New Future Coin (NFCN)
P2PB2B
Listings:
Lekan (LRK)
BabyShibaInu (BABYSHIBAINU)
Extons Finance DeFi (EFD)
Virvia (VDV)
SynchroBit
Listings:
Hifi Finance (MFT)
DODO (DODO)
VinDax
Listings:
DeFi Coin (DEFC)
RYOSHI TOKEN (RYOSHI)
TODAMOON (TDM)
Crypto Kombat (KOMBAT)
Sea Swap Global (SSG)
RevolutionBitcoin (RBC1)
WazirX
Listings:
THORChain (RUNE)
Origin Protocol (OGN)
XT
Listings:
DOGZ (DOGZ)
Baby Doge Coin (BABYDOGE)
PathFund (PATH)
New Doch (NEWD)
ZB.COM
Listings:
Quant (QNT)
BarnBridge (BOND)
Have we missed something? Do you have information about new listings and/or delistings? 
Also, we hope you liked our Crypto Listing and Delisting Announcements Feature
DISCLAIMER: The information provided on this website is for educational and entertainment purposes. The information provided on these websites does not constitute investment advice, financial advice, or trading advice. innoGriti does not recommend purchasing any cryptocurrency. Crypto markets are highly volatile and crypto investments are risky. Readers should do their own research on cryptocurrencies and consult their financial advisers before making any crypto investments.
Thanks to Cryptonews for the updates.