Online investment brokerage Firstrade Securities has announced support for several highly popular digital assets following the recent launch of the Firstrade cryptocurrency trading platform, expanding initial digital asset launch listings with a series of cryptocurrency trading pairs that include Tezos (XTZ), The Graph (GRT), Algorand (ALGO), Curve DAO (CRV), and Stellar (XLM).
Firstrade crypto trading platform provides Firstrade customers with interoperability between all available products and investment types, streamlining access to digital asset markets and providing investors with the ability to gain exposure to asset classes with as little as $1. 
The recent addition of multiple digital assets to the trading platform places Firstrade at the vanguard of traditional brokerages offering crypto investment features that cater to US-based users, presenting customers with the opportunity to invest in and trade 41 different cryptocurrencies. 
Firstrade Brokerage Launches Digital Asset Trading Features
The Firstrade crypto platform delivers instant, streamlined access to digital asset markets through a robust user interface that, in alignment with the Firstrade investment and trading ecosystem, offers an easy-to-use layout supported by trading tools, charting features, and real-time data and analytics. 
Investors can gain exposure to 41 different digital assets at a $1 minimum, with instant settlement providing users with instant access to purchased cryptocurrency. Digital assets listed on Firstrade include highly popular high market cap cryptocurrencies such as Bitcoin (BTC) and Ethereum (ETH), alongside volatile assets such as Shiba Inu (SHIB) and Dogecoin (DOGE).
The five additional assets added to Firstrade, however, offer investors exposure to highly unique, diverse, and complex blockchain and digital asset protocols. 
ALSO READ: What is WazirX P2P and How to do P2P on WazirX
Tezos (XTZ), an open-source blockchain protocol designed to facilitate the deployment and use of smart contracts provides Fistrade users with an alternative to Ethereum with similar use cases, while the addition of The Graph (GRT) offers exposure to an Ethereum-based blockchain search engine token.
The addition of both Algorand (ALGO) and Stellar (XLM) to Firstrade Crypto delivers access to open-source cross-border blockchain-based remittance and payment tokens, while Curve DAO (CRV) listing allows Firstrade users to trade or invest in CURVE Finance's governance token.
Speaking on the addition of the new digital assets to the Firstrade Crypto platform, Firstrade CEO John Liu emphasized the importance of providing users new to the cryptocurrency market with access to more complex blockchain protocols:
"Firstrade Crypto is committed to providing our users with an easy-to-understand means of accessing cryptocurrency markets alongside the extensive range of investment products available through our trading apps, including stocks, ETFs, options, mutual funds, and fixed income. The addition of new digital assets to those already available on Firstade provides users with a higher degree of flexibility and wider range in asset choices."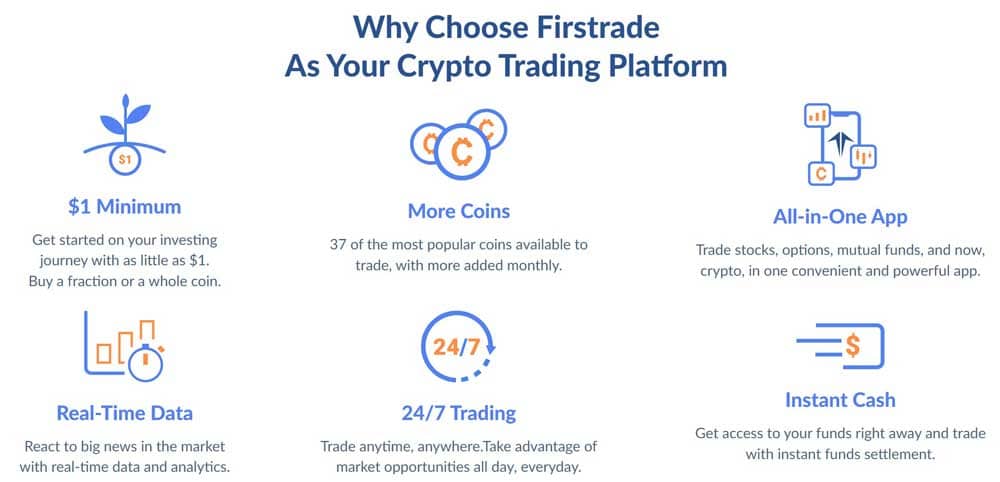 Firstrade Cryptocurrency Streamlines Crypto On-Ramp
Firstrade Crypto allows users to access cryptocurrency trading through Firstrade iOS and Android apps, minimizing the difficulty associated with investing in cryptocurrency for new users. 
In addition to providing users with simplified access to digital assets and advanced analysis and trading tools, the new Firstrade Crypto platform integrates exhaustive analysis, educational content, and FAQ on newly-listed tokens, allowing interested traders and investors to perform cursory due diligence and research on the projects and tokens that interested them through the Firstrade website.
Cryptocurrency trading and investing features, including instant access to newly-listed tokens, are available via the desktop Firstrade Crypto platform and the Firstrade app on iOS and Android.
Cryptocurrency trading is provided by Apex Crypto LLC. Apex Crypto is not a registered broker-dealer or a member of SIPC or FINRA. Cryptocurrencies are not securities and are not FDIC or SIPC insured. Apex Crypto is licensed to engage in virtual currency business activity by the New York State Department of Financial Services. Cryptocurrency execution and custody services are provided by Apex Crypto LLC (NMLS ID 1828849) through a software licensing agreement between Apex Crypto LLC and Firstrade Crypto LLC. Please ensure that you fully understand the risks involved before trading: apexcrypto.com/legal
DISCLAIMER: THIS IS A SPONSORED PRESS RELEASE. READERS SHOULD CONDUCT THEIR OWN RESEARCH PRIOR TO TAKING ANY ACTIONS RELATED TO THE CONTENT MENTIONED IN THIS ARTICLE.