It's really very easy to find a Crypto Exchange on Google but how can you decide which one is right for you? In this article, we will talk about two networks particular WazirX and CoinDCX, India's Top crypto exchanges.
Introduction :
WazirX and CoinDCX crypto exchanges started operations in 2018. They both are well-loved by Indians and have their own pros and cons. According to Coinmarketcap (a global website that tracks the price of cryptocurrencies and stats) now lists WazirX and CoinDCX in the list of the top 50 best crypto exchanges in the world.
WazirX crypto exchange is founded by Nischal Shetty and owned by Zanmai Labs Private Limited. It was later acquired by Binance – the world's largest crypto exchange in November 2019.  
Join WazirX (Referral Link)
Located in Mumbai, India, WazirX has the highest daily crypto trading volumes of around $104 million. 
CoinDCX was founded by Sumit Gupta and owned by Primestack Pte Limited. And partnered with DCX – a Singapore-based company specializing in crypto- enabled financial services.
CoinDCX also operates from Mumbai, India, and has a daily crypto trading volume of around $40 million.
Join CoinDCX (Referral Link)
Ease of Money Deposit & Withdrawal – WazirX Vs CoinDCX
WazirX and CoinDCX support direct INR deposits and withdrawal facilities via your bank account or UPI or P2P. The money you deposit is held in their bank's current accounts in India. And available in your account to buy cryptos.
You can use it to buy Bitcoins and any other cryptos with INR in your account
Particulars
WazirX
CoinDCX
Channel
IMPS, UPI, NEFT & RTGS
IMPS, UPI, NEFT & RTGS
Apps
Mobikwik
Mobikwik
Deposit Fees
IMPS, NEFT, RTGS: Rs. 5.90 per transfer

UPI: Rs. 4 per transfer
Rs. 0
Time
Maximum – 72 hours
Maximum – 72 hours
Minimum amount
Rs. 100
Rs. 100
Maximum amount
No maximum limit
Up to Rs. 5 lakhs depending on KYC status
WazirX does not allow withdrawal if you have not completed KYC and bank verification. 
On CoinDCX you can deposit and withdraw up to Rs. 10,000 in case your KYC is pending. 
Winner – If you are a beginner and have just started you will love the flexibility offered by CoinDCX so here are the clear winners according to us.
Also Read: What is Personal Line of Credit
Trading Fees & Charges Comparison
CoinDCX charges fees based on your last 45-day trading levels, which can be really complex for the new crypto trader.
WazirX has a fixed 0.2% fee that is higher when compared to CoinDCX. Although if you pay fees via WRX token, then you get a flat 50% discount on the fee. This means you need to pay 0.1% which is low for beginner traders as compared to CoinDCX  
In the recent past, WRX has been trading smoothly and delivered handsome returns, making it a win-win situation for WRX users.
Winner – WazirX steals the show here with their effective use of WRX coins for trading making it better than CoinDCX.
Ease of Trading – WazirX Vs CoinDCX
The look and feel of CoinDCX are like a forex trading platform better suited to experienced traders. A new trader would find it a little confusing for a start.
WazirX has a simple and clean interface with only the relevant features, making it easy to understand and use even for beginner traders. The order window is a bit confusing on the CoinDCX where the bids and ask rates are shown one below the other.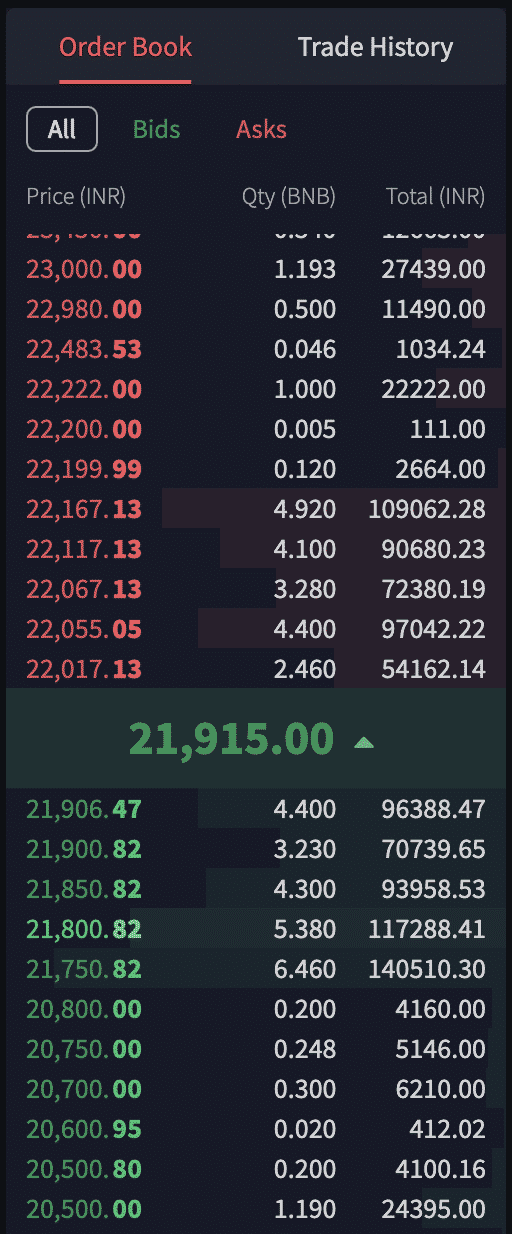 On WazirX it is easy to understand bids and ask for orders placed side by side. order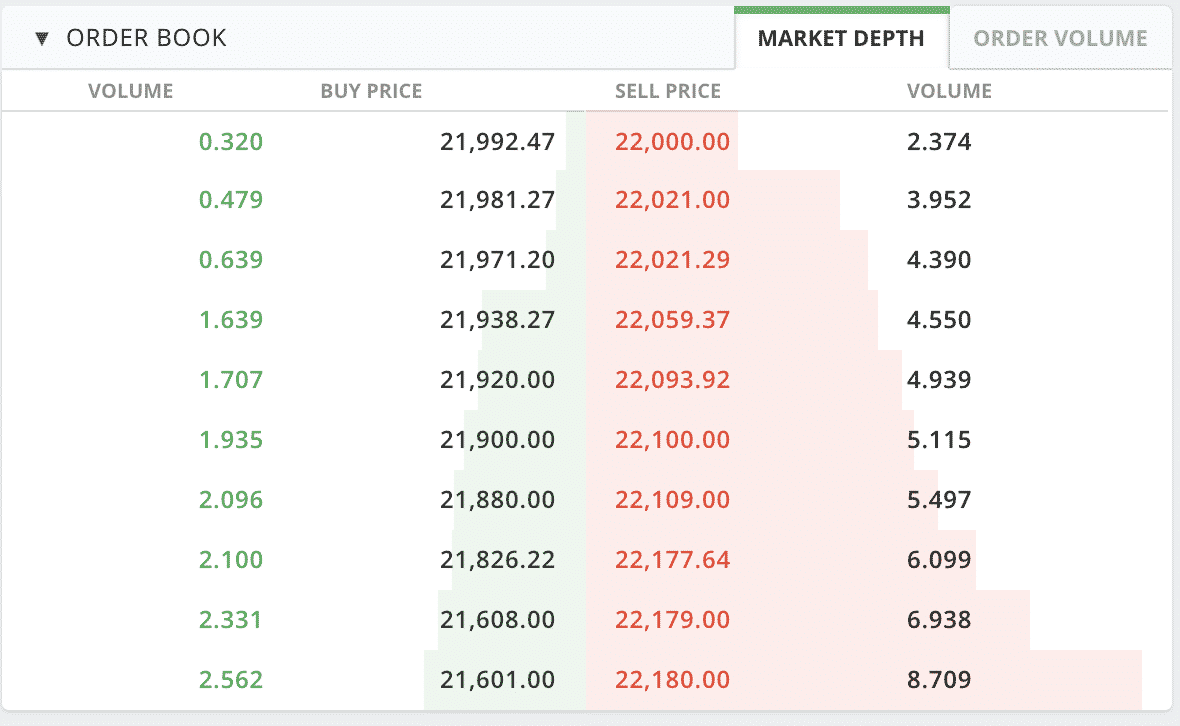 Customer Service
WazirX and CoinDCX both have received complaints from users about the INR deposits getting delayed and problems in trading during peak hours. The prime reason behind this is that banks are not cooperating with the exchanges and the recent huge price fluctuations in the crypto markets. 
Both the exchanges have tried their best to acknowledge and handle the issues through their Twitter handle. 
WazirX and CoinDCX are recently set up crypto exchanges and are ramping their IT infrastructure and team to take care of the issues. They need a little more time to make things perfect.
Pros of WazirX
WazirX's clean, intuitive, and super easy to use interface
Fixed, low 0.1% trading fees using WRX coins
70+ cryptos paired against INR 
Allows you to use UPI to make a deposit apart from NEFT, RTGS, IMPS
You can withdraw INR directly to your registered bank account.
Pros of CoinDCX
To have trading volume-wise fees. 
Lower (up to 0.001%) in the higher segment. 
Access to margin and Futures crypto trading
Want to earn on your crypto using DeFi applications
Use a short trading strategy
to use UPI to make a deposit apart from NEFT, RTGS, IMPS
Final Thoughts on WazirX Vs CoinDCX
Based on the side-by-side comparison of WazirX Vs CoinDCX, I would suggest you open a WazirX account because WazirX is easy to understand & comfortable to use crypto exchange for new crypto investors. 
Whereas, CoinDCX is better suited to traders who already have some experience in investing or trading in cryptocurrencies. We hope you liked this article about WazirX Vs CoinDCX, We promise to continue bringing such articles in the future, Do leave your comments and suggestions.
DISCLAIMER: The information provided on this website is for educational and entertainment purposes. The information provided on these websites does not constitute investment advice, financial advice, or trading advice. innoGriti does not recommend purchasing any cryptocurrency. Crypto markets are highly volatile and crypto investments are risky. Readers should do their own research on cryptocurrencies and consult their financial advisers before making any crypto investments. 
Tags – wazirx vs coindcx 2022, wazirx vs coindcx vs binance, wazirx vs coindcx vs coinswitch charges, binance vs coindcx, wazirx vs coindcx vs coinswitch vs zebpay, wazirx vs coindcx vs finance, Which app is better than WazirX? Is CoinDCX go good? Why there is price difference between WazirX and CoinDCX? wazirx vs coindcx in hindi cryptocurrency exchange latest Is CoinDCX better than WazirX Quora? Why there is price difference between WazirX and CoinDCX?