The cryptocurrency industry is home to many innovative concepts and it provides earning opportunities to everyone with different features. Although the user has to switch between currencies and ecosystems, creating a counter-intuitive experience. Coin98 wants to position itself as an all-in-one DeFi solution spanning those features and more.
What is Coin98?
Coin98 is a protocol providing an ecosystem of DeFi products that is more accessible to Defi users. Available projects built on the protocol include decentralized exchanges, lending protocols, on-chain governance (via Snapshot), blockchain-based games, and so on.
Especially, Coin98 allows multi-chain activities and performs itself as the most outstanding and convenient protocol – which  DeFi users do not necessarily have to have in-depth blockchain knowledge to join.
What Does Coin98 Offer?
Today, Coin98 supports all the features that it promised. In addition, users can access solutions across 20+ different blockchains. The platform notes over 284,000 users generating over $216 million in volume through more than 488,000 transactions. Tapping into the various blockchains, their liquidity and DeFi solutions generate deep liquidity for Coin98 and ensure users will access the best price when swapping tokens. Moreover, the team can optimize gas fees by exploring different "paths" to finalize transactions.
What Is C98 Token?
An integral part of the Coin98 ecosystem is C98, the native token. It resides on three blockchains: Ethereum, Binance Smart Chain, and Solana. The token serves many purposes, ranging from letting holders earn a share of transaction fees to staking rewards and unique membership discounts for the various services and products. Additionally, C98 lets users govern the protocol by submitting proposals regarding the Coin98 ecosystem.
What is Coin98 Wallet
A multi-chain wallet allows users to store, transfer and manage crypto assets on multiple blockchains. It supports more than 20 networks, including Ethereum, Binance Smart Chain, Solana, Polygon, Avalanche, Terra, etc., on both Mobile (iOS and android) and Chrome Extension versions.
For the sake of getting to know about Coin98 Wallet, its features, its use-cases, and desirable airdrop events. You can install the latest version of Coin98 Wallet through these links:
Coin98 Mobile Wallet:
iOS:  ios.coin98.app or  testflight.coin98.app
Android:  android.coin98.app or  apk.coin98.app
Coin98 Extension Wallet:  extension.coin98.app or  chrome.coin98.app
Coin98 Web Wallet:  wallet.coin98.com
How Does Coin98 Work?
Building an open decentralized network for financial purposes is never a straightforward task. The ongoing competition in the blockchain space also fractures the broader ecosystem, making it too complex for users to get acquainted with different solutions and concepts. Unifying all of those options under one banner is a better objective, although it requires innovative technologies. By default, blockchains are incapable of communicating with one another.
The Coin98 ecosystem consists of numerous products, including Coin98 Ventures, Coin98 Labs, and Coin98 Network.
What Makes Coin98 Unique?
Coin98 has gone well beyond the industry average by supporting over 20 blockchains. That is made possible, thanks to Space Gate, a cross-chain bridge enabling swapping and transfers across multiple networks. It has received a few updates already and will face more improvements in the coming months.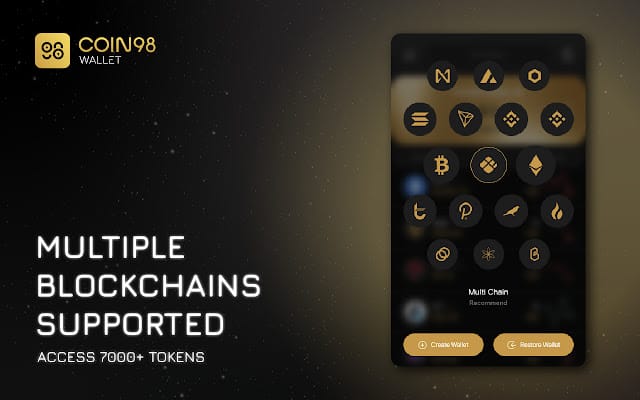 Accessing so many different blockchains would be impossible without strategic partnerships. Coin98 collaborates with Polygon, Terra, PancakeSwap, Avalance, Elrond, Fantom, and Band Protocol in various capacities. Maintaining a dialog with the different blockchain ecosystems allows for building a bridge to tap into cross-chain liquidity and services.
With a web application on the horizon and multi-chain native swaps coming to the Extension Wallet, the team focuses on making cryptocurrency and DeFi more accessible. There is also the C98 token launch to look forward to and its staking support on multiple blockchains. By integrating more AMMs for liquidity and building additional cross-chain bridges, Coin98 can enhance its overall ecosystem and bring more attention to DeFi projects on other blockchains.
Other components under development:
Coin98 Launchpad: IDO platform – Empowers innovative crypto projects through fundraising activities.
Coin98 Markets: a data platform providing Blockchain on-chain analysis.
Coin98 Terminal (Utilities): DeFi Tools & Utilities – brings users and DeFi closer.
Coin98 Lend & Borrow: Coin98 Lending & Borrowing platform.
Coin98 Mega Farm: Farming Market on Coin98 Exchange.
Coin98 Staking: Supports users to staking multiple crypto assets.
Coin98 NFT Marketplace.
Coin98 Derivatives: includes Margin Trading, Future Trading, Options Trading, etc.
Coin98 Tokenomics
Key Metrics C98
Token Name: Coin98.
Ticker: C98.
Blockchain: Ethereum, BSC, Solana.
Token Standard: ERC20, BEP20, SPL.
Contract:
BEP20: 0xaec945e04baf28b135fa7c640f624f8d90f1c3a6
ERC20: 0xae12c5930881c53715b369cec7606b70d8eb229f
SPL: C98A4nkJXhpVZNAZdHUA95RpTF3T4whtQubL3YobiUX9
Token type: Utility, Governance.
Circulating Supply: 185,000,000 C98.
Total Supply: 185,000,000 C98.
Max Supply: 1,000,000,000 C98
C98 Token Allocation
Ecosystem Growth: 21.00%.
Community Development: 20%.
Team: 20.00%.
Strategic Sale: 15%.
Treasury: 12%.
Seed Sale: 5%.
Binance Launchpad Sale: 5%.
Advisors: 2%
How to earn and store Coin98 tokens?
At this point, users can buy C98 at Binance Launchpad. In the future, users can acquire the token through:
Binance.
Coin98 Exchange.
Provide liquidity at Coin98 Exchange.
Staking activities.
Roadmap & Updates
There are many components/ products in Coin98 Ecosystems. Within the scope of this paper, we will explain the Roadmap of the main component: Coin98 Exchange.
Coin98 Exchange Roadmap includes 4 Phases:
Phase 1 (completed): Single-Chain Swap only.
Phase 2 (We are here): Market Expansions on different blockchains (Ethereum, BSC, Solana, Avalanche,…), simultaneously Bridge development to move assets between those chains.
Phase 3: Develops Smart Route on each Blockchain, offers users the best rates and low slippage without requiring them to visit each AMM at a time to finish transactions.
Phase 4: Connects native assets through Smart Route on different blockchains, forms a fully mature cross-chain crypto market.
Can Coin98 (C98) Hit $1?
The token price at the time of the launch of C98 set by Binance is $0.075. At the moment, it is not possible to predict the price of the token as multiple factors, including the circulating supply and interest of the market, are involved in estimating the price.
The top exchange for trading in C98 token is currently Binance
Hope you like this article on "What is Coin98"