ZEBB Review
ZebPay, one of the oldest and largest crypto exchanges in India has launched a new mobile app – ZEBB. It is touted as a cool, breezy, easy way of buying Bitcoin and Ethereum, either to invest a lump sum or start a weekly systematic investment plan – automatically buy Bitcoin and/or Ethereum every week for a fixed amount.
Let's see step by step How Zebb and their App experience works for us.
Signing Up on Zebb
The purple interface of the app makes ZEBB look refreshing and vibrant, the font is spaced well, and color-coded buttons signaling buying and selling make it clear what they are meant to do when hit.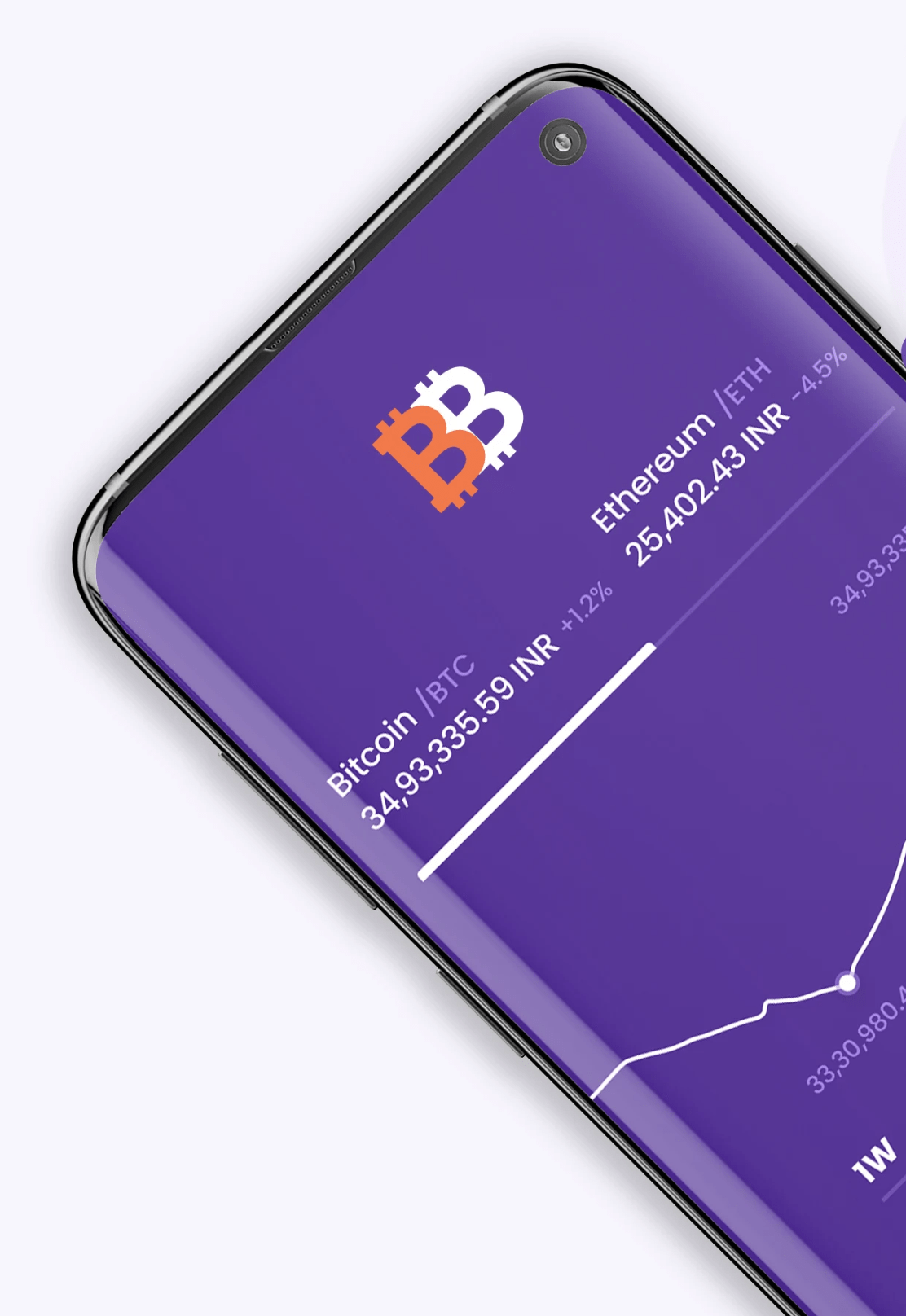 Since the app is meant to serve as an independent app for crypto beginners, everyone must create a new account here, including those holding an account on ZebPay.
The Signup process is simple – enter the necessary details, do the KYC verification directly from the phone, and it is processed in a few minutes. You can start trading quickly after signing up if all the documents are in proper order for verification.
The verification process requires users to take pictures of their PAN card, address proof, and a selfie via the app. Aadhaar, Driver's License, Voter Card, and Passport are accepted as address proof.
Users must also add a bank account, this account should be used to deposit INR to ZEBB or withdraw from ZEBB. The App verifies the bank account with a 1 rupee deposit into the submitted bank account. The name of the account holder must match the ZEBB account holder's name.
ALSO READ : WazirX Vs CoinDCX – Which is Better for You in 2022!
Buying Bitcoin/Ethereum on ZEBB
Just like everything else in the world, you need money to buy Bitcoin and Ethereum on ZEBB. To deposit INR into ZEBB, the user has to transfer funds to ZEBB's bank account, then submit a deposit request with the reference number of the transaction.
As of now, only a bank transfer is the available option, and while it says it can take up to two days to confirm the deposit, it is usually done in a few minutes.
Once the deposit is done, you can buy either Bitcoin or Ethereum, instantly or start a SIP with the first installment going in at the same time.
On the home screen, simply click on the buy button for the crypto you wish to invest in, enter the amount to invest and it will be done.
However, there is one feature that is one of the best ways to invest in crypto (Remember! This is not financial advice). This feature, us in India, are pretty familiar with. It is called a SIP – Systematic Investment Plan. In some other parts of the world, the strategy is also called DCA – Dollar Cost Averaging. ZEBB's SIP feature is definitely worth a shot.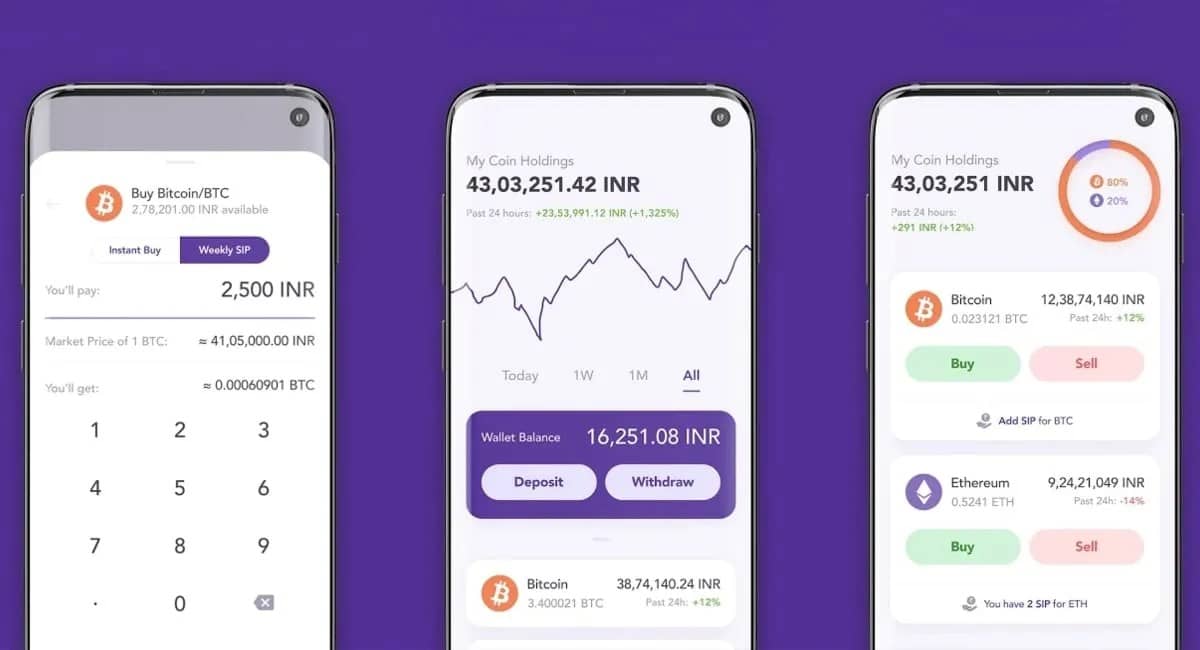 Systematic Investment Plan
While the app is easy to use for buying crypto, I still recommend investing in crypto slowly, and steadily and hence SIP comes in very handy.
Deposit the necessary amount and then set up the system to buy Bitcoin and/or Ethereum worth a certain amount every week. The weekly SIP will make the transaction on the same day next week, the week after, and so on.
Bitcoin and Ethereum are the top 2 cryptocurrencies in the market and have been for many years. They are fundamentally stronger and likely to grow in price over time. However, they are not immune to the classic crypto double-digit percentage volatility. Instead of investing at a time, after which the price keeps dropping, investing regularly at market price will average out the cost of purchase, and be easy to manage the volatility.
To start a SIP, simply click on "Add SIP for BTC/ETH", enter the amount for each installment, and confirm.
The first purchase will be made immediately, followed by every week.
The SIP transaction amount can be edited, SIP can be closed anytime. There are no restrictions and no fees.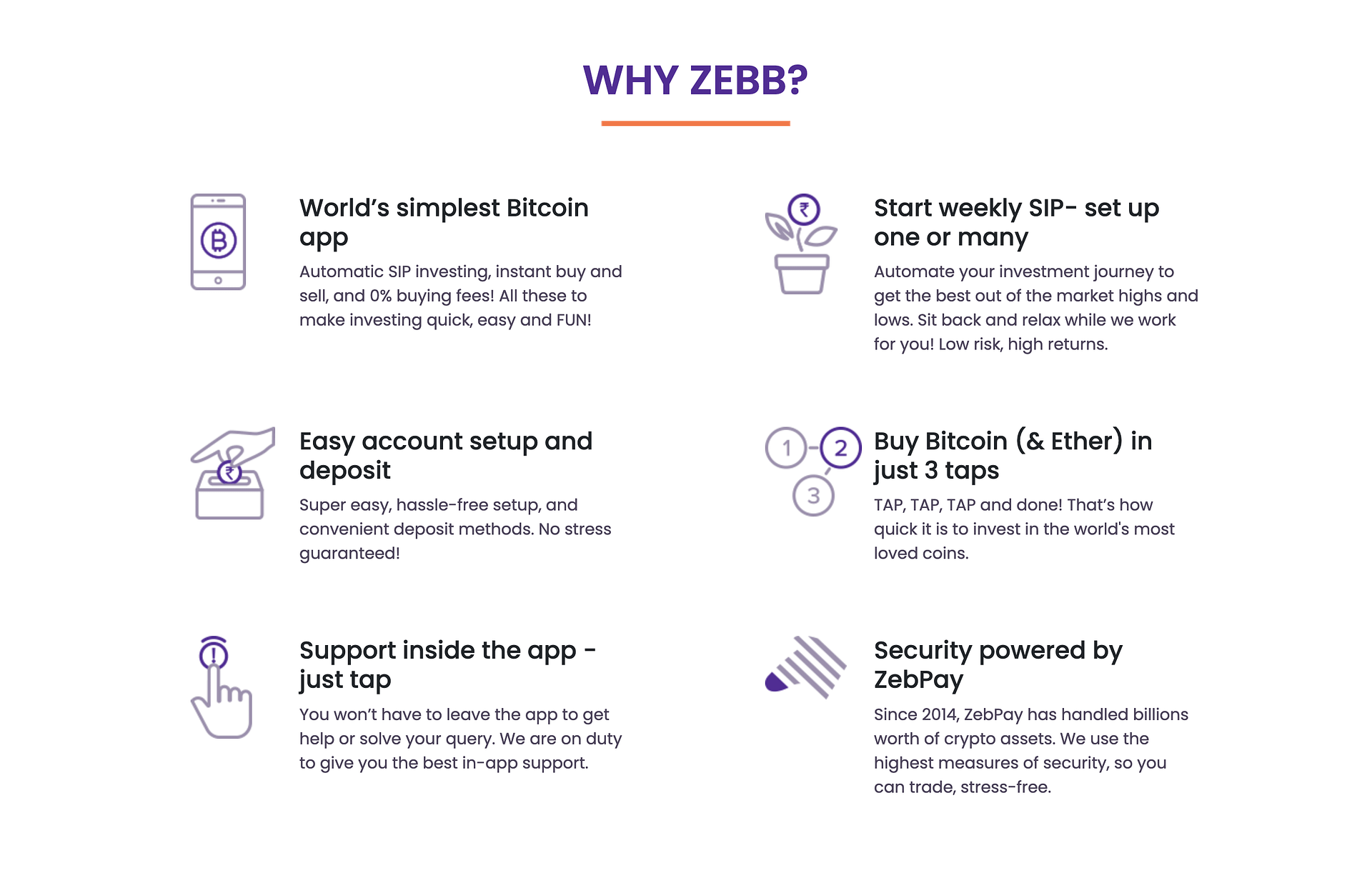 Final Thoughts:
Cryptocurrency investments have matured over the past few years. There were very few options for easily investing in crypto, not far long ago. However, today, exchanges are not only focusing on traders, they keep on having investors on the platform. Products like these attract users to easily invest in crypto and stay on the platform, which is a win-win for any mobile app today.
There are no compromises, Barring the unfortunate unavailability of instant deposits and withdrawals of INR as banks restrict access, everything is absolutely amazing and intuitive about the ZEBB app.
The App does not charge any fees, at any given point in time, the buying price of Bitcoin and Ethereum is the same as it is available on the ZebPay exchange. So, it might make more sense to move to ZEBB and start a SIP if you are simply investing in Bitcoin and Ethereum.
The next time anyone asks me how they can start their crypto journey, I am pointing them to ZEBB. I do hope they come up with a referral program though, so it's incentivizing to send our friends and families on the platform.
Everything is said and done, currently, the only major drawback I find in the app is that users cannot withdraw crypto. However, this may change soon as newer versions of the app launch.
A SIP in both bitcoin and Ethereum gets you an average price of entry into these assets. Make a habit of investing small amounts into these assets and watch your wealth grow in the long term. You can now start with as little as ₹100!
Will you try ZEBB yourself? Let us know what you think about it and do comment below your thoughts on Zebb Review.